Send your filled up Admission Form with payment details or ask for any clarification through
Email : iids@tgouwp.edu / datascience@nagaland.net.in
Call on 8731887593 / 8787365855
for seeking any further details.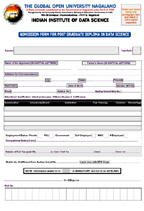 STEP BY STEP METHOD OF LEARNING AT THE GLOBAL OPEN UNIVERSITY NAGALAND
1. Get the Admission Form below and complete the same

2. Send or Submit the filled-up Admission Form along with the required documents

3. Pay the Admission Fee by Cheque / Draft / Electronic Transfer / RTGS

4. Receive the Roll Number

5. Attend the classes regularly

6. Complete the assignments, appear for the examination and fullfil the basic requirements.

7. Wait for the announcement of results.

8. One Year Post Graduate Diploma in Data Science shall be awarded to all the successful candidates by The Global Open University, Nagaland.
Contact Address
In case of any clarification, contact the Facilitation Officer / Admissions Officer, The Global Open University Nagaland, Sodzulhou Village, P.O. - ARTC, NH-39 Dimapur, Chumoukedima - 797115, Nagaland or call on 8731887593 / 8787365855.
Pay Online
You can pay the fee online. Fee can be transferred electronically in the University's Bank Account through ONLINE or RTGS etc. also. Click here to Pay Online

Pay by RTGS / NEFT
TOTAL FEE STRUCTURE FOR 1 YEAR IS INDIAN RUPEES (INR.) 30,500 ONLY (US$ 400 only)

This amount is to be transferred to the University's Bank Account having the following details :

Name of the Account: Indian Institute of Data Science
Bank Name: AU Small Finance Bank
Account Number: 2301259852472977
IFS Code: AUBL0002598
Branch: Saket, New Delhi